Hello all,
This is my first post from Japan(Yes I'm Japanese. Sorry for my poor English).
Recently I bought a audio interface, Steinberg UR22 mkII, and start using Guitarix for my guitar.
Everything works great with my Manjaro notebook after some tweaks.
And also I bought Behringer FCB1010 MIDI foot controller to controll Wah guitar effect of Guitarix.
To start using Guitarix with Behringer FCB1010, I read following page.
https://libremusicproduction.com/articles/ultimate-guide-getting-started-guitarix
The page says "
Bindings can be viewed and edited by navigating to Engine > Midi Controller.
"
But on my guitarix, there's no entry. And I can't add any entry on it.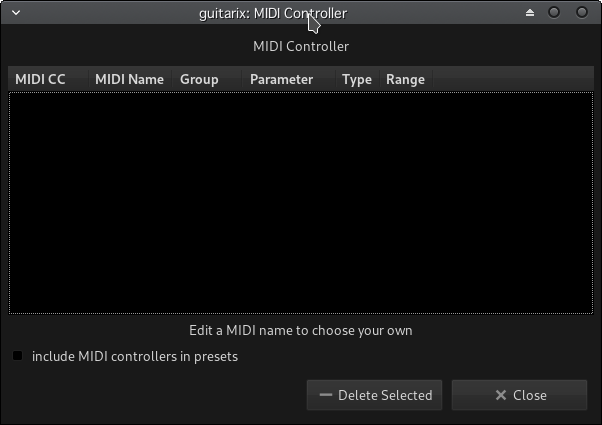 I'm quite new to Behringer FCB1010 and just start reading
http://www.mtnsys.com/?path=faq-fcb/showfaqs.asp%3f
.
My Jack connections are below.


How can I assign MIDI commands to Guitarix with FCB1010.
Please give me your advice.
Best regards,
Akihiro