Hey everyone! I've been working on a new, free, cross-platform, polyphonic synthesizer "Helm" and it's finally ready for beta
It currently works as a standalone or as a LV2 plugin in GNU/Linux (there are also builds for Mac and Windows as standalone/VST/AU/AAX)
http://tytel.org/helm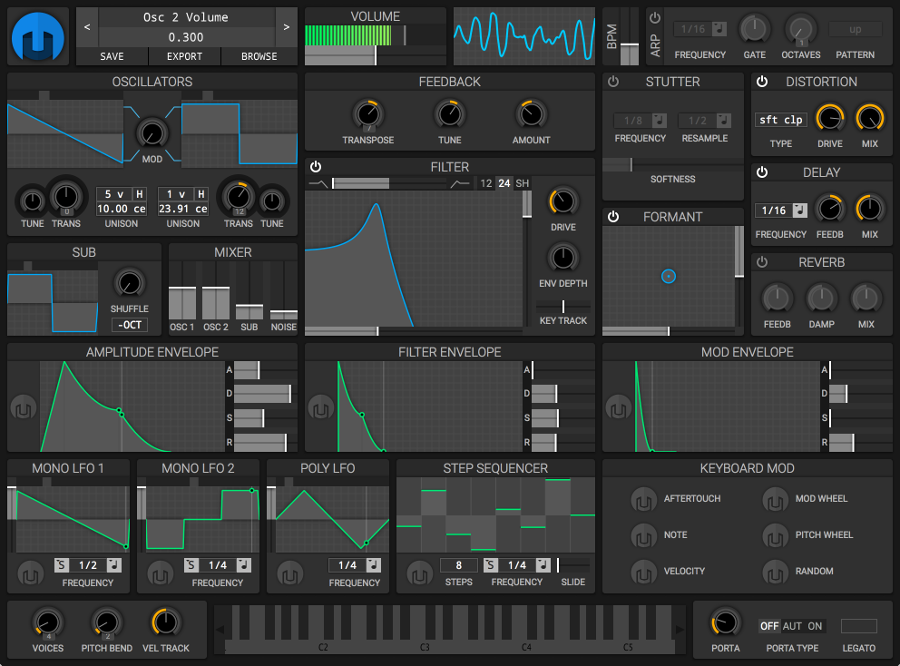 The main goals of Helm are ease of use and software freedom. A lot of development has been focused on creating nice graphical widgets so you can see what's going on. It's licensed under GPLv3 so it's free to use/distribute/change and all that.
-- Here's a feature overview --
GLOBAL
32 voice polyphony
Arpeggiator
Cross-platform patch loading/saving
Oscilloscope
Portamento/Legato
OSCILLATORS
2 main oscillators with 11 anti-aliased waveforms, cross modulation, unison/harmonize
A sub oscillator with 'shuffle' wave shaping and a noise oscillator
Oscillator feedback for changing timbre
MODULATION
Routable modulation and real time visual feedback so you can see what controls are modulated and by how much
Aftertouch/Velocity/Note/Pitch Wheel/Mod Wheel modulation sources
2 mono and 1 poly LFO with live visual feedback
2 Envelopes
Step Sequencer with smoothing
FILTER
Filter with low-pass, high-pass, band-pass, high-shelf, low-shelf, band-shelf and all-pass settings
Formant Filter with x/y pad control
EFFECTS
Stutter
Delay
Reverb
Helm has just entered beta so there are bugs. If you run into any or think of some feature improvement, send it to me at
matthewtytel@gmail.com
and I'll fix the bugs and consider adding in the feature.
If you REALLY want to help out though, send patches you create or audio files of songs you make using Helm
Hope you all like it!